COMING SOON:
22-23 SEPT
MUSIC-PERFORM.
BOOK NOW
Harry Elektron & Somewhere Litsa
present "Earth"
Deep from the bosom of the earth, life is born and recycled through archetypal rhythms, primary dances and paradoxical myths.
29-30 SEPT
SCREENING
BOOK NOW
Thessaloniki Cinedance International
Short dance film festival
TCI is an independent festival aiming to showcase contemporary dance on screen works from around the world.

Applications are open until August 27, 2018, exclusively via FilmFreeway.
Introduction to choreography
Workshop by Drosia Triantaki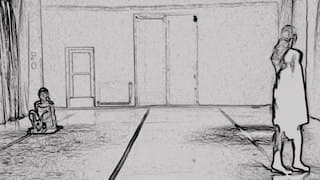 How do we conceive and approach choreography as viewers, dancers, as autonomous bodies, or as interpreters?
The workshop is targeted at dancers, actors, architects, performers, artists, and anyone interested in engaging with the structure of human motion in space.
Once a month at
UP
TiSFF 2007-2018: Selection
Thess. International Short Film Festival
A selection of some of the best films screened by TiSFF in its 11 year history!
Discrete Works III
by Die Wolke art group
Discrete Works is a collection of short pieces on music by Dani Joss, choreographed by Drosia Triantaki.
The programme and participants will be announced soon.
Trajectory of an Idea
by Die Wolke art group
A piece featuring interaction between movement and audiovisual elements via sensor technology. Funded by the Ministry of Culture.
The Venue
Art space, contemporary dance stage, live music venue, audiovisual studio. Home of the fuzzy mind and the experimentally inclined psyche. And Die Wolke Art Group's headquarters.
Inside the 130 sq.m. space one finds a theatrical stage with an arsenal of audiovisual technology supporting it, an electronics lab, an editing/color grading/VFX workstation, sound and lights, a 5m projection screen, cameras, and a host of sensor and controller apparatus. Also a small number of people that are adept at utilising the aforementioned implements to creative effect. Vitruvian Thing is intended to host all kinds of experimental activities, collaborations, and educational events: dancetheatre performances, live music, film projections, installations, theatre, talks, exhibitions.
Events at Vitruvian Thing are invariably underscored by our philosophy of quality and respect towards audience and artists. The venue, as well as its managing group Die Wolke, is a non-profit endeavour (Die Wolke is a registered non-profit company).
Activities
WATCH
Vitruvian Thing seats 50 people in four rows. Most shows have multiple times/dates, so reservations are necessary to help us manage attendance.
We make it a point to start on time, to break the vicious circle of showtime delays that encourage belated arrivals and so on.
We recommed that you subscribe to our mailing list to stay informed. Social networks no longer work as they should for most people. We will never abuse your email address!
ΒΟΟΚ
We are always looking for interesting performances to host, that meet our mission statement: high quality, forward thinking art; experimental, innovative ideas by contemporary artists; cross-disciplinary, intermedial technique; including, but certainly not limited to, dancetheatre, contemporary experimental/electroacoustic music, performance art, movie screenings, and more.
The stage is about 40m² of black, antivibrational, with computer-controlled lighting, wide projection area, sound system, 5m screen, etc. Contact us for booking info.
UP
UP is our new rehearsal space. With around 90m² of 100% support antivibrational floor, UP is a flexible room that is particularly suitable for dance and theatre lessons, rehearsals, workshops, etc. An open, well-lit space, with clean, uncluttered aesthetics, lots of natural light, acoustic control.
UP is available to book by the hour, while special deals for recurring events are available. Contact us for booking info.
STUDIO
The space is bookable as a studio for seminars, workshops, rehearsals, video shooting sessions, general-purpose experimentalism, or any other purpose, with or without staff.
We also host Occam's Sharpener, the post-production unit responsible for the visual effects in Imago, as well as various other visual media and programming projects.
Admission
Unspecified ticket
At Vitruvian Thing, we acknowledge the difficult financial circumstances of this period. So, unless otherwise noted, admittance to the events we host entails an unspecified amount: you decide how much the ticket should be and, in doing so, you are supporting the artists and helping Die Wolke keep the venue running. At the entrance, we issue donation coupons to acknowledge your contribution, equivalent to receipts, as required by law.

So, upon arrival at Vitruvian Thing and checking in at the welcome desk, you can choose your own price of admission: literally as much as you think is just right for you. You receive your coupon, and enjoy the show.
Contact Us
VITRUVIAN THING
Home of the fuzzy mind and the experimentally inclined psyche.
Ptolemaeon 29A, 4th floor, 54630, Thessaloniki
Run by Die Wolke art group, a registered non-profit company.
Parking: 24h local (unrelated) underground parking facility on Amvrosiou str (same block, 50m). Bus: Antegonidon stop, on Egnatia str.